The Ts'ah Bii Kin Chapter is located in a rural area of the Navajo Nation approximately 5 miles North of Junction Hwy US-98 & N-16 and about 60 miles north of Tuba City, AZ.  The Chapter House was built in the 1960. The community consists of a Senior Citizens Center, Head Start School, Two Convenience Stores, and a Indian Health Service Clinic.  According to the 2010 census, the total population of the community is 1252 with 343 households, and the median age being 32.1.  The community is predominately Navajo and Navajo continues to be the dominant language.  Ts'ah bii kin is approximately 58 miles with 1 hour travel time from Tuba City, Arizona. And it is about 51 miles and 1 hour travel time from Kayenta, Arizona.  Most community members travel to Page, Arizona for household needs and it is 59 miles with 1 hour travel time to Page and it is 2 1/2 and 134 miles from Flagstaff, Arizona.
Ts'ah Bii Kin Chapter has an area of 748,160,000.00 and has 184,867.15 Acres.
Local Government
The Ts'ah Bii Kin Chapter community elects individuals to lead to make decisions for the community.  The panel of Chapter Officials is a 3 member governing body who advocate for the people.   The Chapter day to day operations is overseen by a Chapter Manager, Administrative Assistant, Planner, Office Assistant, Project Aide.  
VISION:  Laying the foundation for the vibrant future we envision for our community.
MISSION:  The goal of the Ts'ah Bii Kin Chapter is to improve and the quality if life and health of our residents in its Chapter service by providing appropriate services such as modernizing building onto existing infrastructures to a growing community.
Goals:  There are several community strengths, opportunity, and areas that our community should focus on improving.  These determinations resulted in the formation of goals that build on our strengths, take advantage of our opportunities, and overcome our challenges.> Economic Development, Fiscal Responsibility, Excellent Service, Communication, Preserve and Protect.
TA'SH BII KIN CHAPTER HOURS:
OPEN FROM 8:00 AM TO 5:00 PM (MONDAY – FRIDAY)  (Closed for Lunch 12 noon to 1 p.m.)
Dikos Ntsaaigii – 19 (COVID-19):
Stay-at-Home (Shelter in Place) Order and Daily Curfew from 9:00 pm to 5:00 am
Effective Until Further Notice>  https://www.ndoh.navajo-nsn.gov/covid-19. <This website also view COVID-19 testing schedule:
Individuals are required to STAY HOME and to STAY ON THE NAVAJO NATION. Refrain
from off-Reservation travel. Individuals are also advised not to gather with anyone
outside your immediate household and to stay within your local communities.
The intent and purpose of this Public Health Emergency Order No. 2021-004 is to extend
the Stay at Home (Shelter in Place) requirements and curfew hours for an additional one
(1) weeks, to March 15, 2021 at 5:00 A.M. MST.
TA'SH BII KIN CHAPTER SERVICES: 
(Services Provided Monday – Friday from 9:00 a.m. to 12:00 p.m. and 1:00 p.m. to  4:00 p.m.)
NO EXCEPTIONS       (Closed for Lunch 12:00 p.m. to 1:00 p.m.)

Currently all services are provided on a daily basis with certain exceptions. First and foremost, all services are provided in accordance to the Navajo Nation Public Health Orders and the Center for Disease Control's guidelines. We will continue to provide no contact services where we can, if not we will require your cooperation in ensuring that you are wearing your masks, practicing social distance, and using our hand sanitizing stations.
NO CONTACT services will include:

Trash Collection – Customer will be provided with up to 3 bags of household trash per week. You must call the Administration Office, state your name, and indicate how many bags of trash you have. You will be required to stay in your vehicle and have no contact with anyone assisting you.
Water Service – Customer may use the watering point if they have already purchased a card. If they need to purchase a card or reload their card, you must come into the service area and make your transactions. Again be reminded you must follow all signs instructing mask required, hand sanitizing, and social distancing.
All other services that require contact will be done in the designated service area. You must wear a mask, sanitize your hands before and after each transactions, and keep a distance of 6 feet from others.
Please help us help you and your families to stay healthy and safe. Your understanding is greatly appreciated. 
TS'AH BII KIN CHAPTER SERVICE FEES
OUTGOING FAX:
1ST PAGE ……………………………….$2.00
TAX: .12
ADDITIONAL PAGES……………$0.50

INCOMING FAX:


PER PAGE……………………………..$0.50
TAX: .03
 TYPING (RESUME, ETC..):
PER PAGE………………………………$5.00
TAX: .30

COPIES/PRINTOUTS:


BLACK & WHITE…………………..$0.25
TAX: .02
COLORED………………………………$0.50
TAX: .03

WATER:


PER GALLON………………………..$0.03

TRASH:


PER BAG (30 Gal.)………………..$1.70
TAX: .02
TRASH CARD REGISTERED VOTER…$30.00
TAX: $1.80

WIFI:


2ND VOUCHER……………………$3.00
TAX: .18

PROOF OF RESIDENCY

.……$5.00
TAX: .30


*(Additional cost) Navajo Nation sales tax is 6%*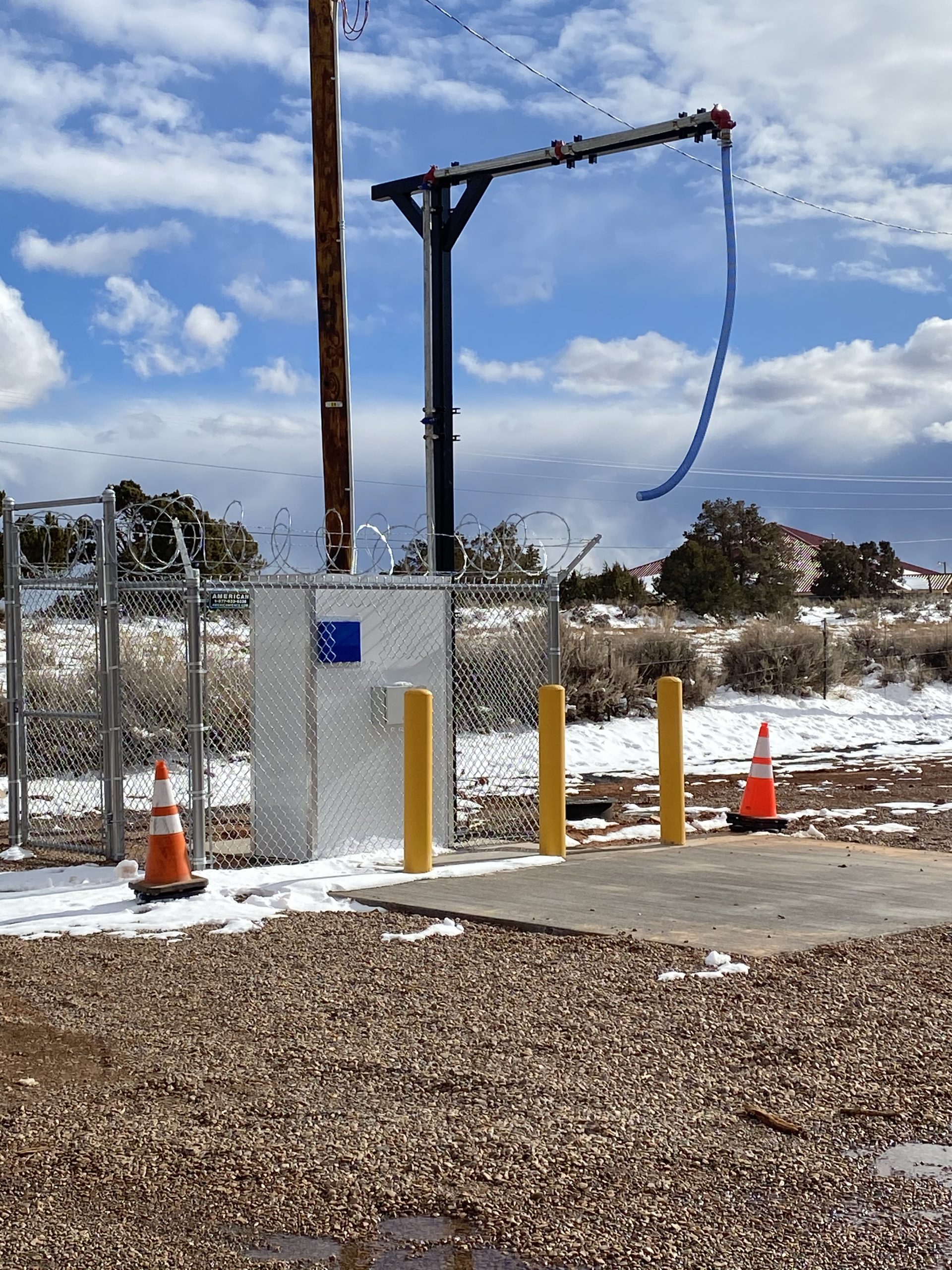 Ts'ah Bii Kin Chapter New Watering Point:
The Watering Point is now open as of Tuesday, Feb. 16, 2021. All Water Cards are purchase inside the Chapter Administration! 
2019 TBK Trail Initiative:  "A Walk in the Sage Trail"
Ts'ah Bii Kin summer youth employees construct walking/running trail with "junk food tax" dollars.  The Chapter always tries to incorporate the youth to better understand the things life will bring forth, and to prepare them for what's ahead of them.  The trail will encourage the community to implement healthy initiatives in their daily lives.
The project known as the 2019 Ts'ah Bii Kin Trail Initiatives was completed by a group of 20 Navajo students who are part of the Chapter's summer youth employment program, using revenue collected through the Navajo Nation's "junk food tax."
The summer youth employees constructed the 0.8-mile graveled trail over the course of three weeks, which surrounds the perimeter of the chapter.  The project was also partially funded in partnership with the Navajo Transitional Energy Company, LLC.
The Chapter hired consultant Matthew Roberts to train and help the students with the first 2 days of construction, the students were quick learners and completed the Project with info gathered during the training.
A project that was predicted to be completed in 10 weeks was completed by 20 of our own youth within 3 weeks.  Which brings back the teaching behind "T'AA HWO' AJI T'EEGO".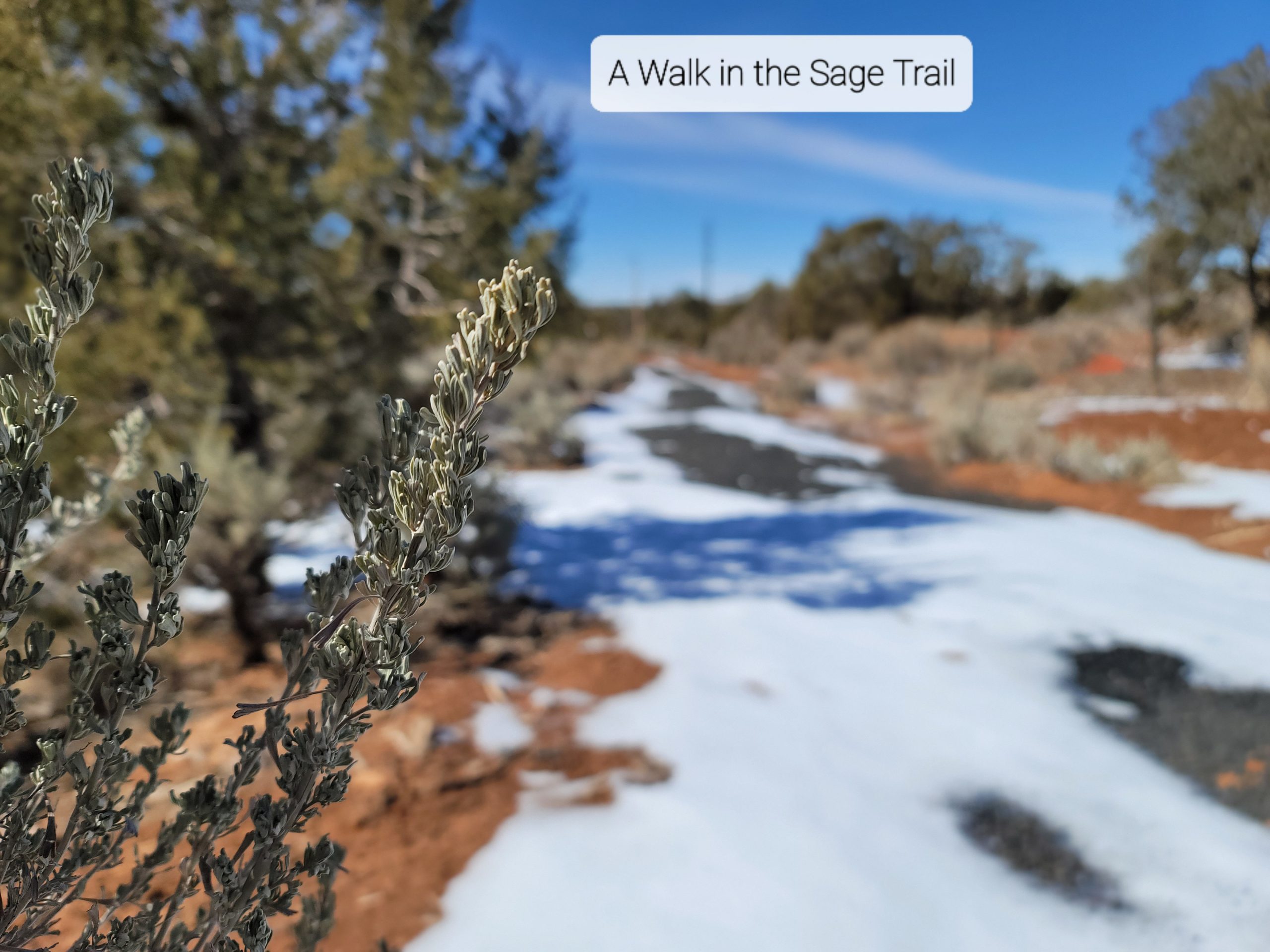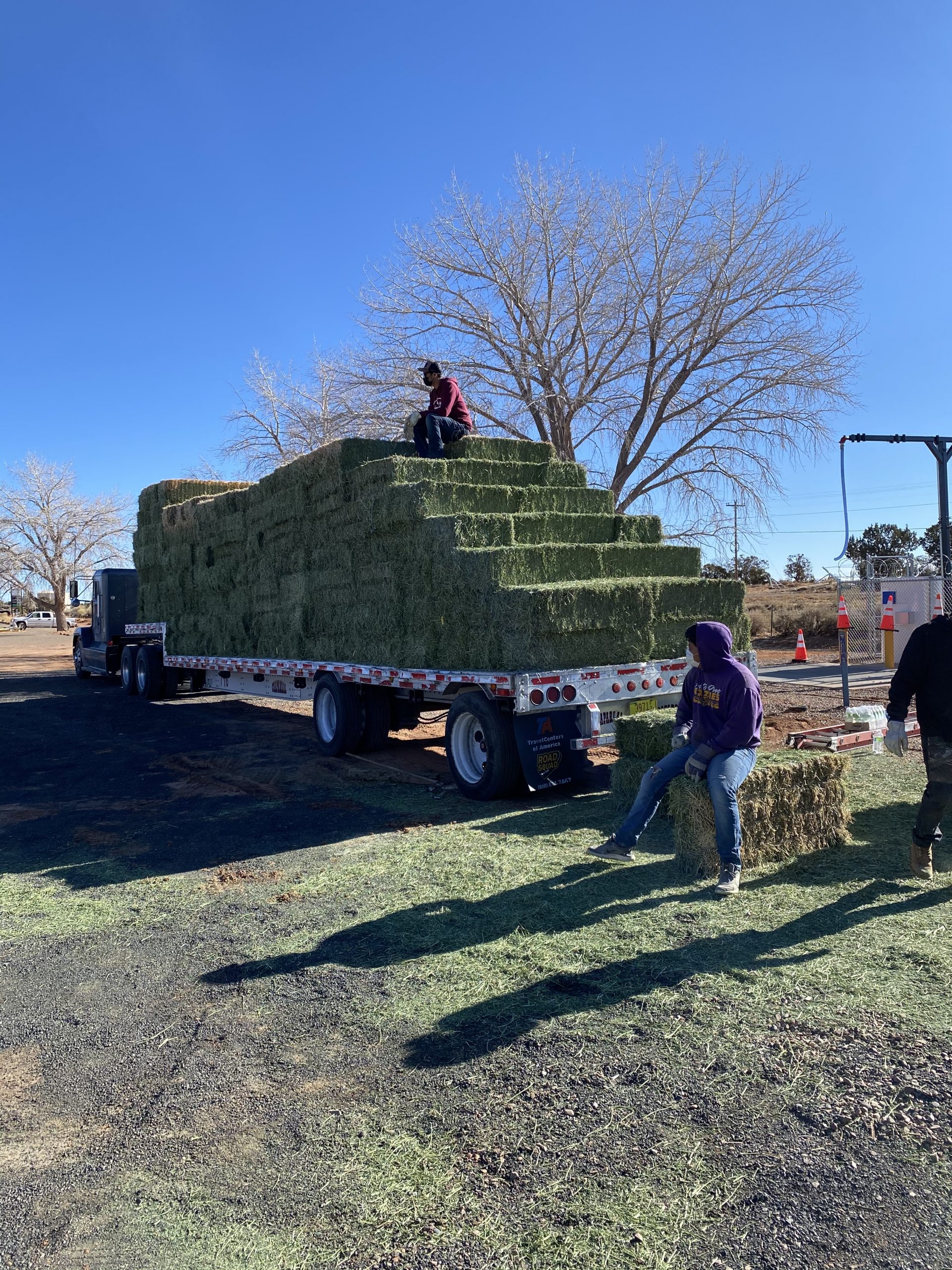 2021 TS'AH BII KIN HAY DISTRIBUTION:
Ts'ah Bii Kin Chapter Distributed HAY to the Community Grazing Members:  Help from the Chapter staff members, official and Volunteers from local members. Hay Distribution was successful with grazing members happy and thank you to all our volunteers who help! Chapter appreciate the volunteer helpers.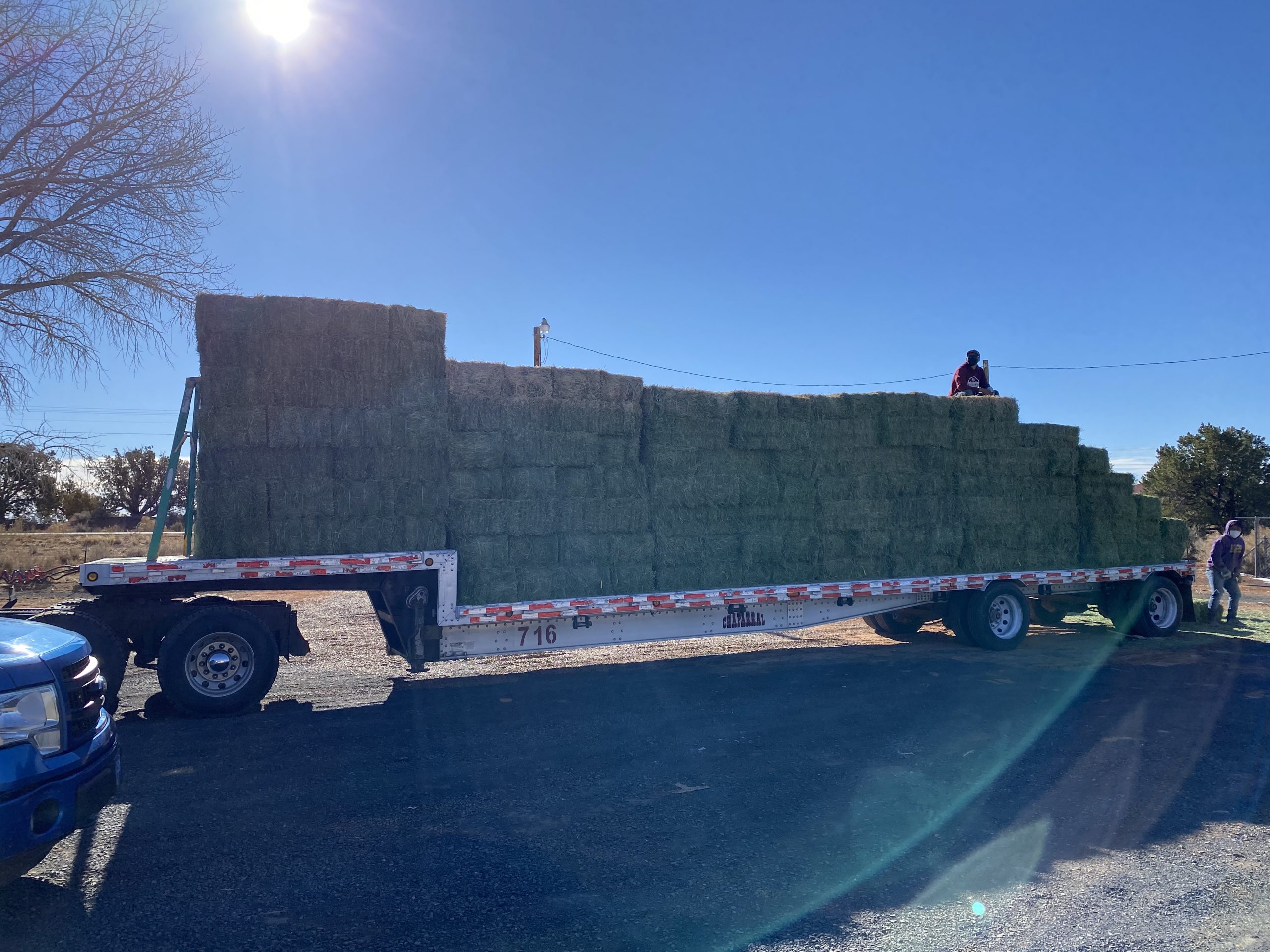 St. Mary's Food Bank Distribution:
St. Mary Food Bank in Collaboration with Ts'ah Bii Kin Chapter to service the community every 4th MONDAY OF THE MONTH.

Next St. Mary's Food Bank Distribution at Ts'ah Bin Kin Chapter:             
Tuesday, April 27, 2021.
NO CONTACT DISTRIBUTION:

All participants will need to wear a face mask and to stay in their vehicles at all times!

Things to know before you come: A photo ID is required for each Household requesting food.  Each ID must have an Arizona address on it to receive food.
St. Mary's Food Distribution
Monday, March 22, 2021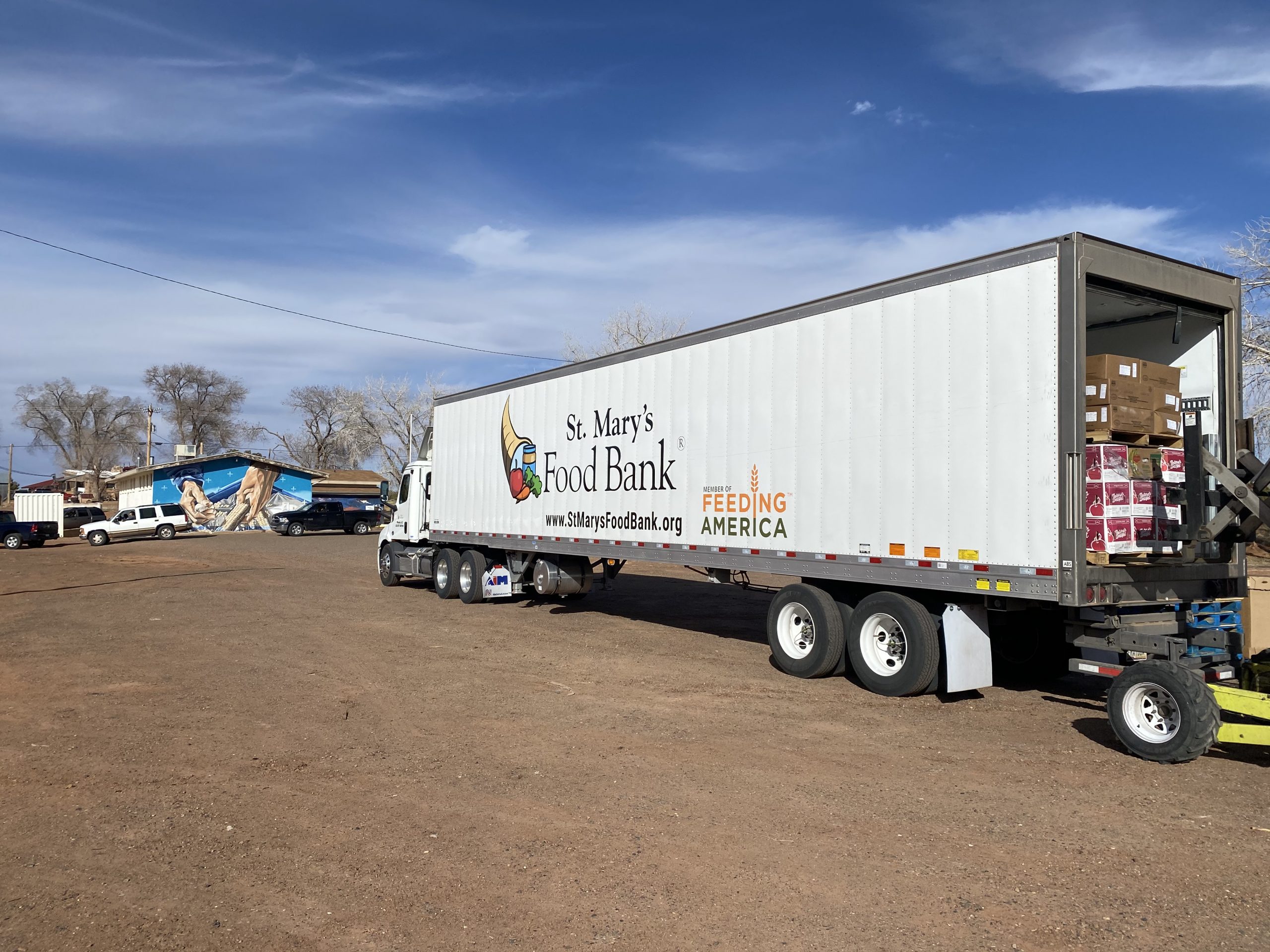 "To Strengthen Chapter Service that will further enhance the quality of life for our people by infusing the harmonious time- honored practices of self sufficiency"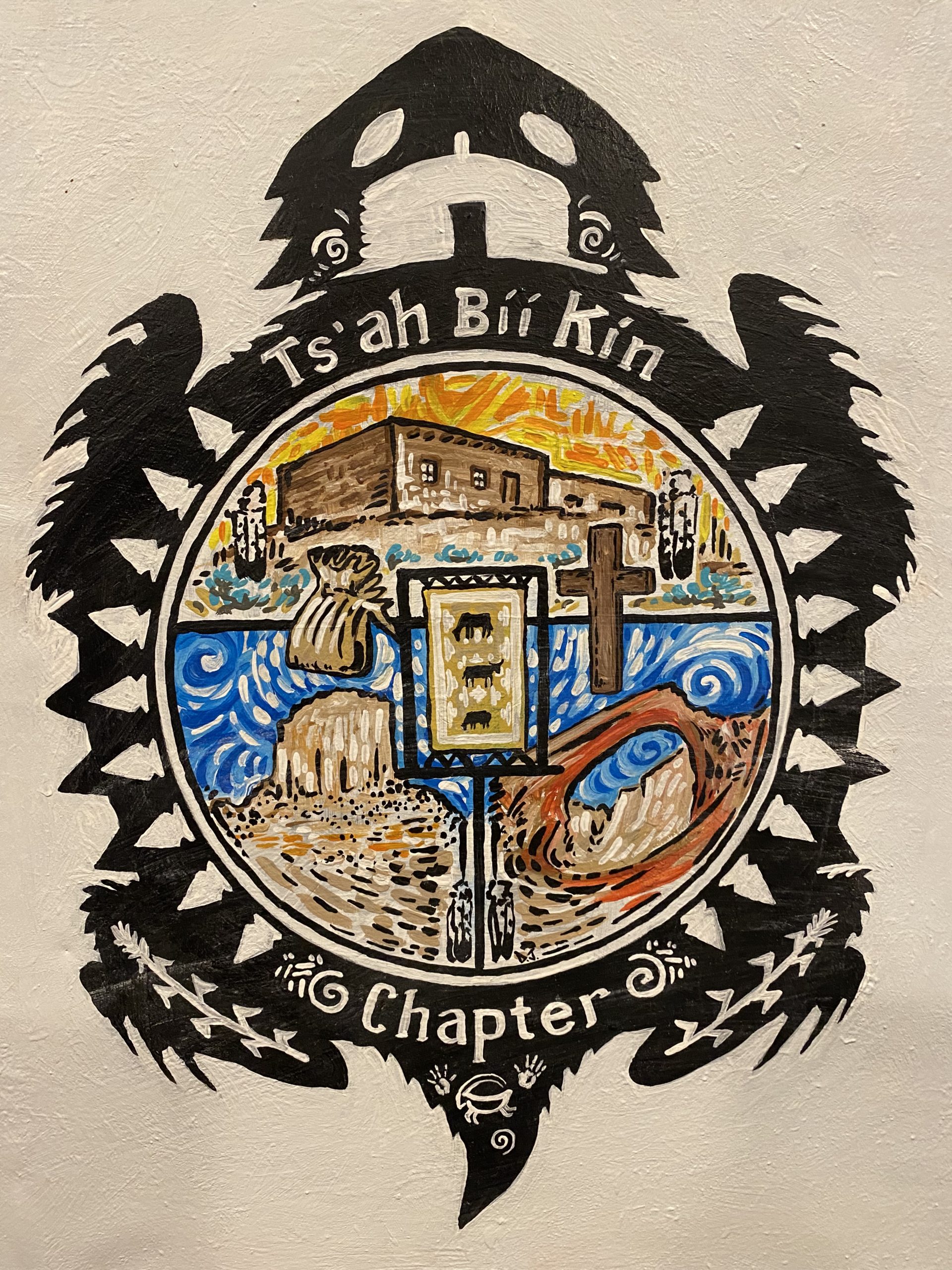 TS'AH BII KIN CHAPTER             OFFICIALS
GERALDINE CHEE
President
CHANCY NODESTINE
Vice President
ORLANDO GOODMAN
Secretary/Treasurer
HAPPY JERRY BEGAY
Grazing Official
HERMAN DANIELS
Council Delegate
     TS'AH BII KIN CHAPTER       ADMINISTRATION
EARL SOMBRERO
Chapter Manager
ARIEL SOMBRERO
Administrative Assistant
VERNON WILLIE SR
Planner
MERLINA WHITETHORNE
Office Assistant
RENA LANE
Project Aide